I love giveaway and I am taking part in
KYM's Epic giveaway
. You can take part too. Contest is held at
http://www.beecreative.ca/
A few things to note:
The items pictured in each sponsor link is not necessarily what is included in the giveaway.
# of giveaways depends on # of entries
open to international readers
if you are interested in being a sponsor, please email me at kbanguis@gmail.com
giveaway ends august 20, 2009
Ladies, thank you for your hard work and your kindness :)
yes, i am serious about leaving those comments. you know i had to incorporate engrish in this somehow. hehe!
NOTE
: you do
not
need to enter 2 times for 2 entries / 3 times for 3 entries, just follow the instructions associated with the number of entries you would like. thanks!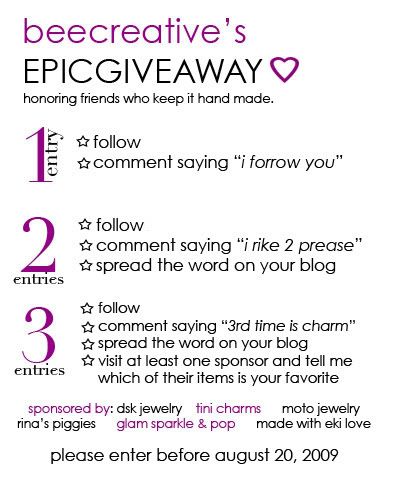 SPONSORS
Good luck to everyone!